★★★★★ 1,269 Reviews
Regular price
$35.90
Sale price
$29.90
Unit price
per
Sale
Sold out
Shipping Times

Shipping Times

We use USPS for most of our deliveries, and do deliver to United States and Internationally. You can expect your order within 4-6 business days for United States and 5-7 business days for international orders from when it leaves our warehouse. *PLEASE NOTE due to current high demand and workplace social distancing requirements our distribution centre is taking slightly longer to send orders than usual.
Order Tracking

Yes. Once your order ships you will receive an email with tracking code with estimated delivery date.
Where my order shipped from?

All the orders are shipped from our warehouse located in Naples, Florida. You can expect your package within 4-6 business days for delivery inside U.S.
Can I return my order?

Yes! We are extremely confident that you will love our products. However if you do not find suitable for you we do offer a 15-day returns policy. The product being returned must be in an unused condition and returned along with the storage bag and protector.
THE WORLD'S FIRST ADJUSTABLE EYEGLASSES FOR DISTANCE WITHOUT A PRESCRIPTION!

Freely customize for 20/20 crystal clear vision in seconds. See close, far, extremely close, medium distances, any distance clearly! You can simply rotate the discs to switch the glasses into nearsighted glasses or hyperopia glasses.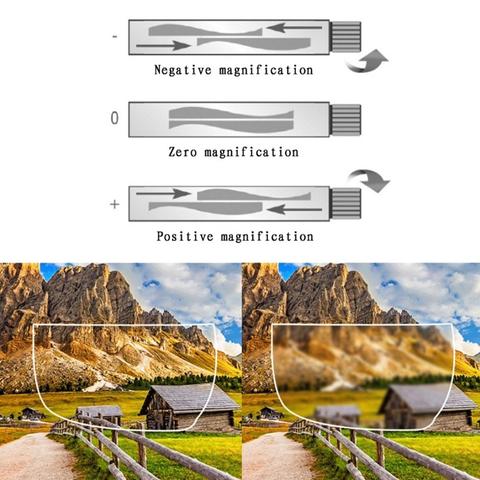 【Extra durable and impact are resistant】
Made of polycarbonate material, a flexible structure that fits heads of all sizes and its impact-resistant lenses are durable enough to withstand accidental drops and force. You do not have to worry about them breaking.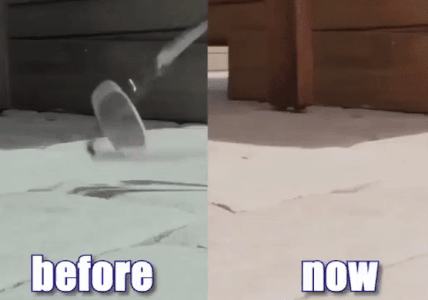 【Easy to use】
There is no need to go to an optometrist to get a second set of prescription lenses. Simply rotate the dial to continuously adjust our Adjustable eyeglasses until you get a clear view. No tools required - it's totally convenient.Don't need to worry about the size, shape, and prescription.
【STYLISH】
Our stylish and trendy unisex glasses are perfect for all face shapes.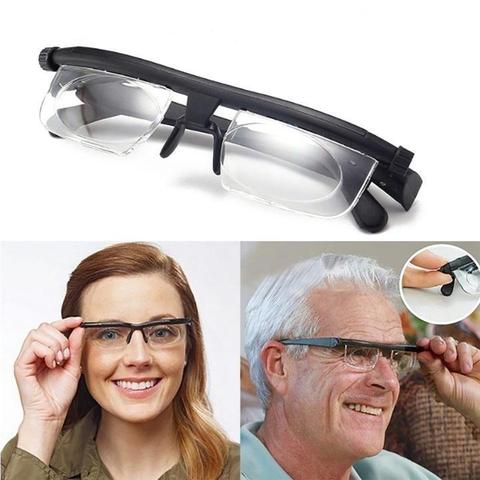 THE LAST GLASSES YOU NEED! 
Magnification continuously adjustable for crystal clear viewing 
Rotate the discs to adjust the distance or read instantly 
Using the sliding lens technology, it offers customizable focus control by adjusting each eye independently by turning a dial to that capacity customized prescription. 
Adjustable goggles are ready for use in less than a minute for when and where you need them. 
Great as spare glasses in emergency situations 
20/20 vision, fully adjustable (-6D to + 3D)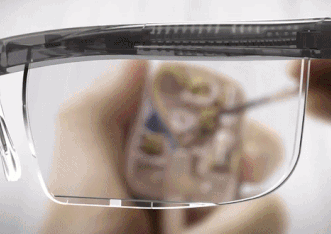 HOW TO USE :
Before placing glasses, note that there are dials on the side of each lens. This is important to note, as adjustments will be made through this dial / small button. 
Wear glasses as normal. 
To begin adjusting the lens degree, cover one eye and adjust the display on the opposite side (the eye with visibility), for example. Cover the left eye and adjust the right lens dial. Cover the right eye and adjust the left lens. 
Make adjustments on both lenses, one at a time
If the view is still a little blurry, you can repeat step 3 as needed. 
🔎NOTES:
Frame Color:

 Black

Material:

 Acrylonitrile Butadiene Styrene

Weight with Packaging:

 

100 Grams

Sex:

 

Unisex

Adjustable Focus:

 

-6.00 to +3.00
🔎PACKAGE INCLUDED:
View full details
Ian Walter

In just a few days, I received my very first shipment from season republic. Their packaging was excellent, and the products were in perfect shape.

Kevin Mason

I have received many compliments on the shirt. I plan on using them for the next month or two.
I will continue ordering from this company.

Laura Davis

I received the season republic pack in time for my thanksgiving trip and I am so happy that I ordered it. I am so excited to watch movie with this projector with my family.

Brian Anderson

I purchased this product about three weeks ago and am very happy with it. I have used it mainly in my yard and enjoy the pictures I've taken. This product has a very good battery life as well.

Jacqueline Malone

This coat I got from season republic is a great looking coat that is made from a really high quality material. I would definitely recommend wearing it.

Monica Allen

I was surprised at the quality of the product, but I realized that it's because they have a lot of options to choose from! I was able to find something that I was happy with and I ended up buying two. I would recommend this store

Cassidy Butler

I bought this product for my daughter's birthday. She was very excited as she had been looking for a good gift that she could customize herself. She loves the rain so the concept of this rain gear was perfect

Leslie Smith

I ordered the t-shirt on a Thursday, and it shipped out the next day. I received the shirt in 3 days, and it was exactly as described on the website.

April Mann

Now, I am definitely a fan of a good t-shirt with my favorite team on it. So when I opened my package, I was very pleased. I'm glad I ordered from season republic, and I'll be sure to tell my friends about them.

Randy Cook

I bought this for a family member's birthday. I was very impressed with the shipping, the product itself, and the instruction manual. I was also impressed with the price, and the fact that I can return it if I'm not satisfied.